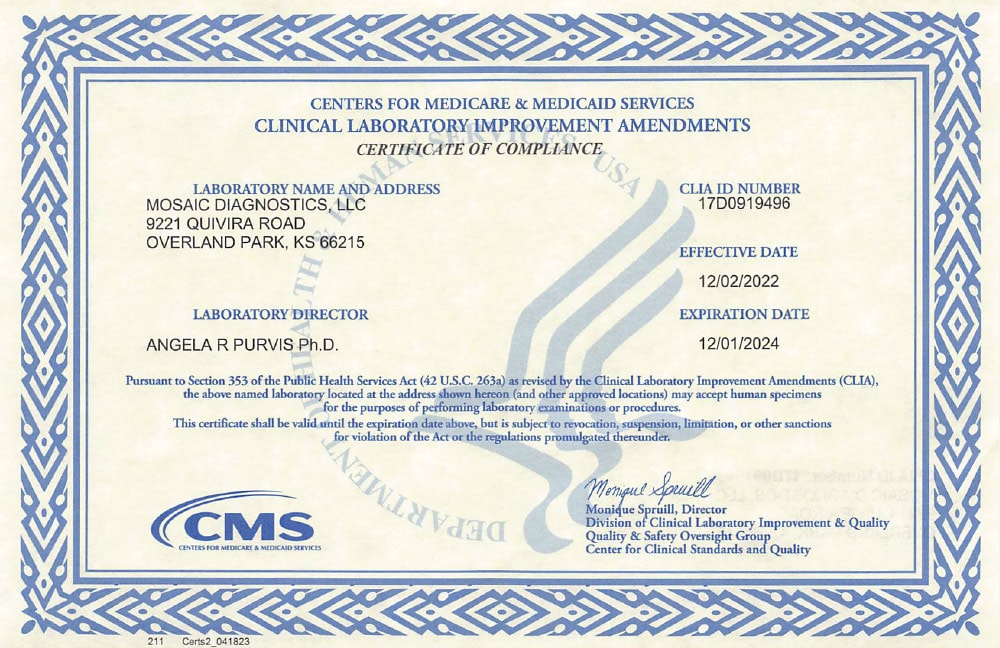 Mosaic Diagnostics, LLC is fully compliant with the federal Clinical Laboratory Improvement Amendments (CLIA) law in the United States. All laboratories that we send samples to are also CLIA certified, ensuring quality and reliability.
In 1988, Congress passed the Clinical Laboratory Improvement Amendments (CLIA) which established quality standards for laboratory testing to guarantee the accuracy, reliability, and promptness of patient test results, regardless of the testing location.
A laboratory is defined as any facility that conducts testing on human specimens for the purpose of providing information for diagnosing, preventing, treating diseases, or assessing health status.
According to CLIA regulations, the federal Centers for Medicare and Medicaid Services may inspect any laboratory of any size for compliance with CLIA requirements. However, if a state has an acceptable laboratory inspection program, it can perform the necessary inspections. A laboratory that meets all quality control procedures will be awarded a CLIA license, demonstrating that it has met all federal requirements for operating a laboratory. Although participation in other laboratory licensure programs offered by agencies such as CAP, COLA, and JCAHO is not required, The Great Plains Laboratory, LLC holds a current CLIA license, which can be found above.
Internal Quality Controls
We meet all inspections by the state and external proficiency testing programs through CAP by maintaining a robust internal quality control program. A portion of quality control samples are analyzed with every batch of tests to ensure laboratory quality, and patient samples are regularly split to verify that different technologists obtain similar results. This commitment to quality helps us deliver accurate and reliable results to our patients.