We're committed to enhancing your experience, every step of the way.
MosaicDX Portal
Enhanced Clarity and Insight into Order Pricing and Discounts
Effective: 10/19/23
We are excited to introduce the following improvements to your ordering process, providing enhanced transparency in order pricing and discounts:
Review Order Screen: Starting with the review order screen and continuing to the confirmation page, you will now have a clear breakdown of discount calculations while placing your order.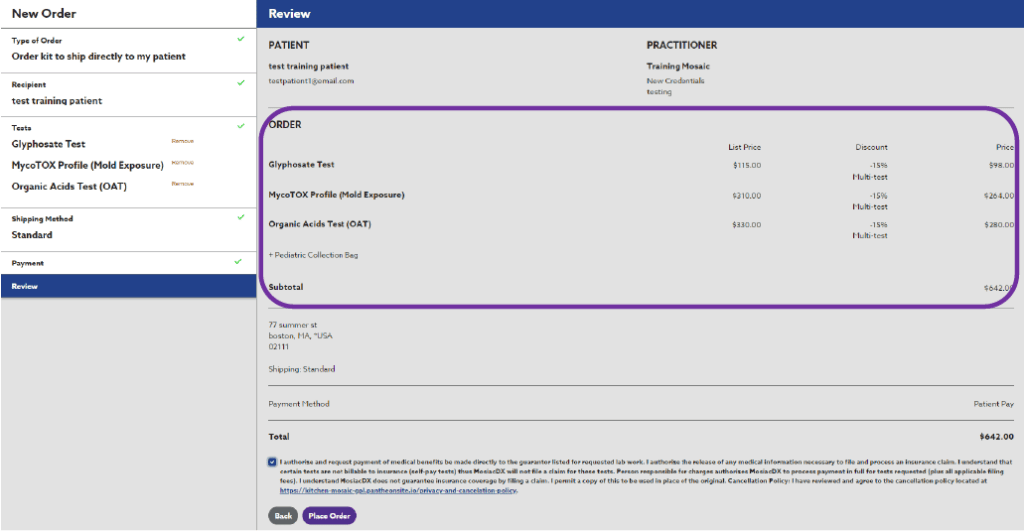 Invoices: Discounts have now prominently featured on each invoice, providing a clear breakdown and the option to print and download your invoices.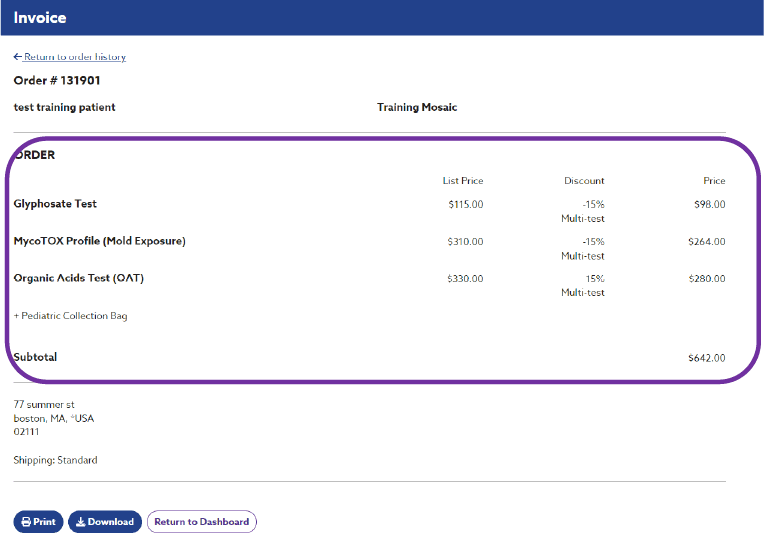 ---
MosaicDX Portal
Customize Orders for Pediatric Collection Requirements
Effective: 10/19/23
Introducing the following enhancements to your ordering process, offering customization features to improve your patients' testing experience:
Pediatric Collection Bag Selection:  Now, when placing orders, you can directly choose a pediatric collection bag for your patients. This streamlines the process, eliminating the need for an extra step to contact customer service team.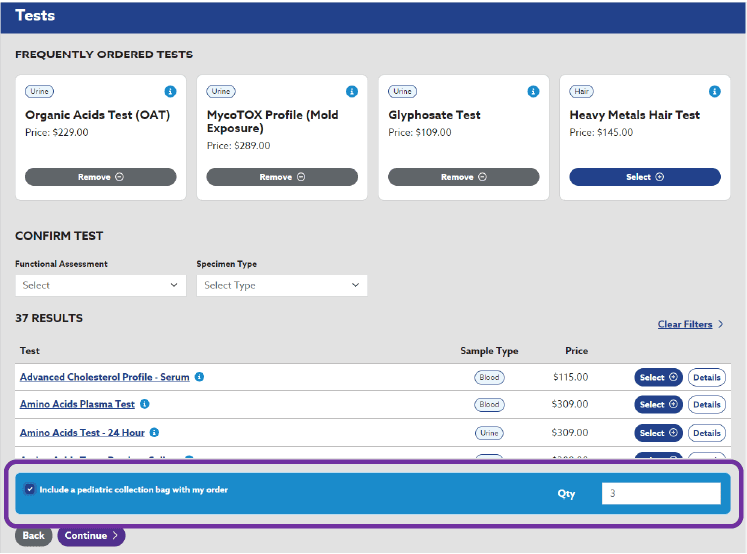 ---
MosaicDX Portal
More Efficient and User-Friendly Process for Managing New Users
Effective: 10/19/23
We have implemented the following improvements to simplify the steps and enhance the overall experience of inviting a new user to join your MosaicDX portal account:
Inviting New User: When inviting a new user to your MosaicDX portal account, you only need to enter their email address. The user will receive clear instructions on creating their account. 

To further streamline this process, we've added the option to "use card on file." This means the new user won't need to provide their credit card information during the registration process as they will use your practice's current credit card on file.

Support for Linking an Active MosaicDX Portal Account:  If you need to link a new user to your account who already has an existing MosaicDX portal account, we've made it easier.

When you visit the page, you'll find clear instructions on how to contact our customer service team for assistance with adding an existing user to your account.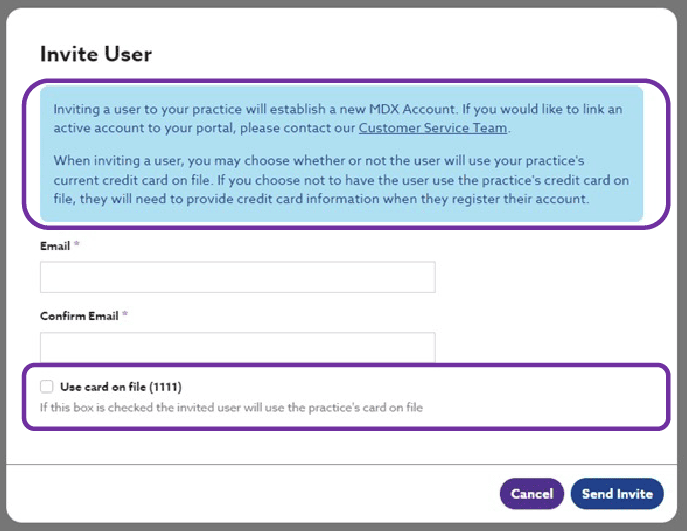 ---
MosaicDX Portal
Credential Selection Standardization
Effective: 10/19/2023
Introducing new enhancements to the MosaicDX portal's account update section:
Standardized Credential Selection:  We've replaced free-form text entry for credentials with a simplified process. You can now select your primary credential from a dropdown menu, offering a more standardized approach. 

For other credentials, you still have the option to enter them as free-form text to complete your information.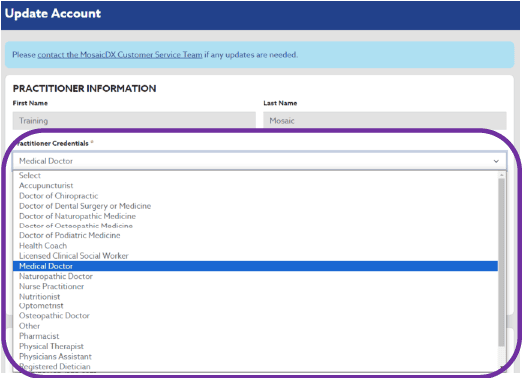 ---
MosaicDX Portal
Enhanced Billing Summary Experience
Effective: 8/31/2023
We are excited to present the following enhancements to your ordering process to deliver a more transparent and seamless experience:
Prepaid Pricing Clarity: Prepaid amounts are now reflected as zero for the respective test/sales order.
Simplified Prepaid Management: Our portal now organizes prepaids by test and expiration date.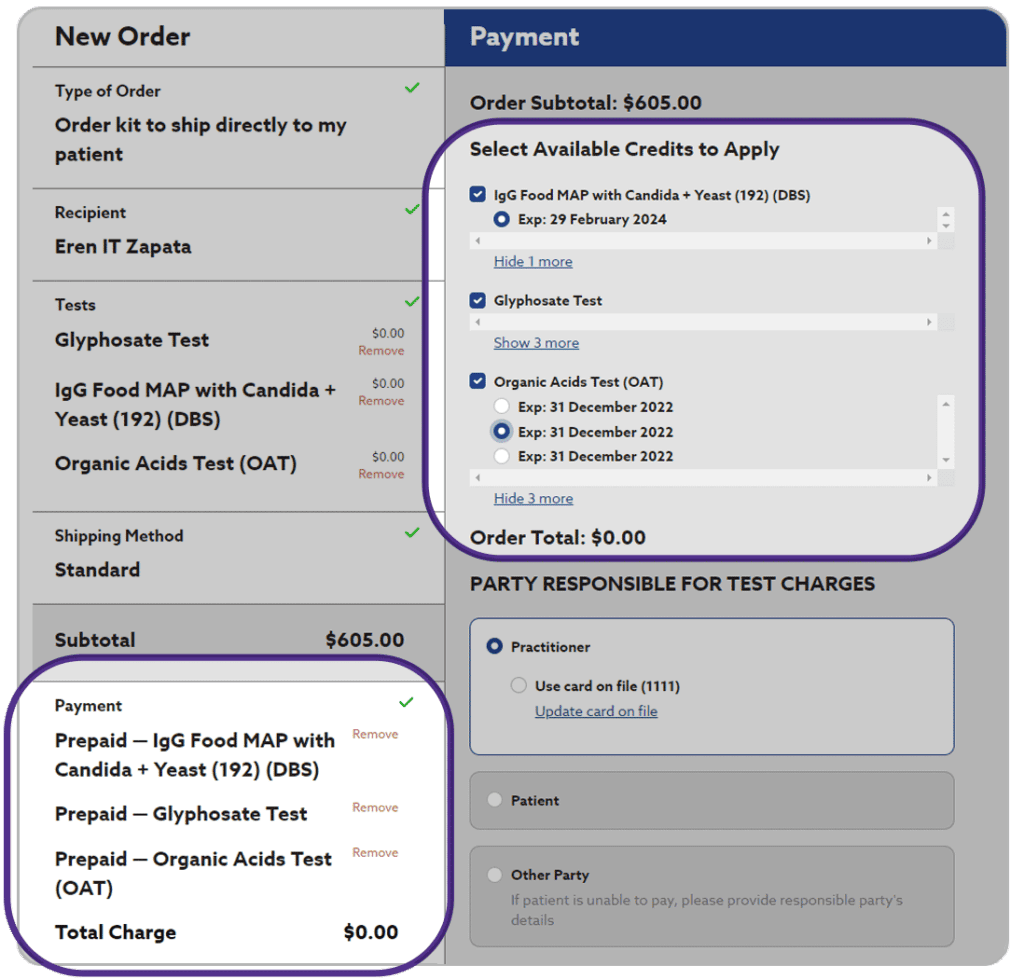 ---
MosaicDX Portal
Patient Pay
Effective: 8/31/2023
We're thrilled to introduce new functionality to improve your patients experience with MosaicDX testing:
Streamlined Patient Payment: When patient pay is selected, at kit registration, patients will pay directly, ensuring a smoother and more adherent testing process.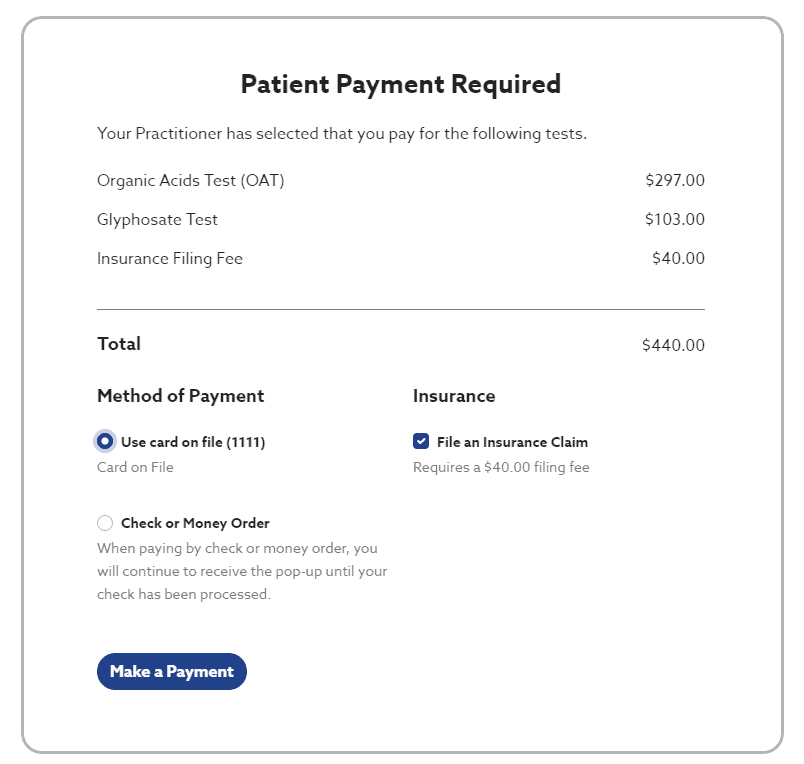 ---
MosaicDX Portal
Enhanced Billing Efficiency
Effective: 8/31/2023
We've introduced powerful new billing features to increase effieciency:
Seamless Practitioner Payments: Practitioners can easily make payments directly from the billing page.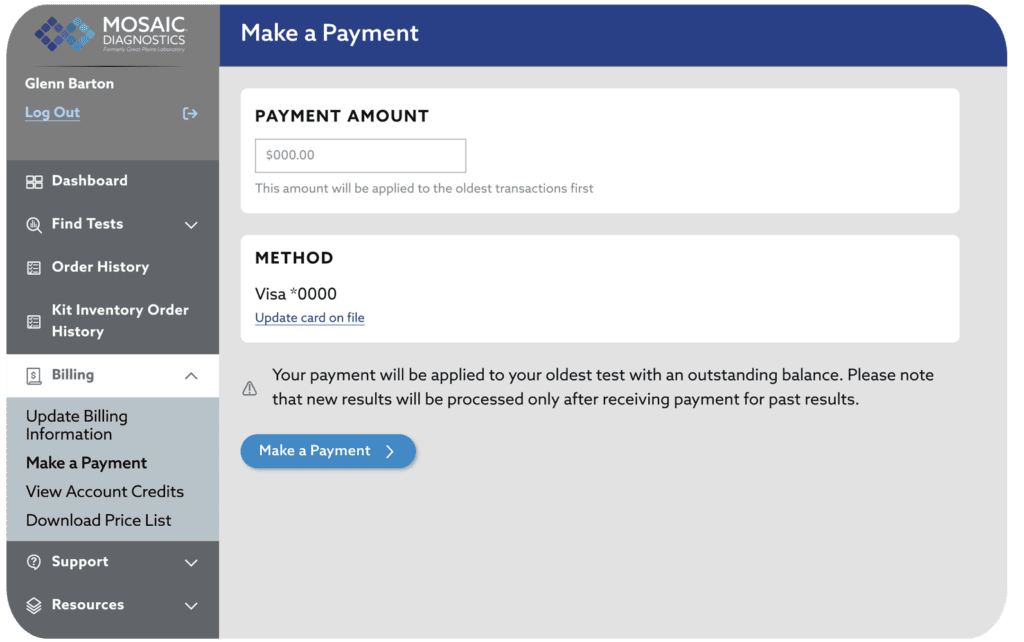 Visible Prepaids: We have enhanced your visibility into your prepaids, the billing page now displays the prepaids available in your account.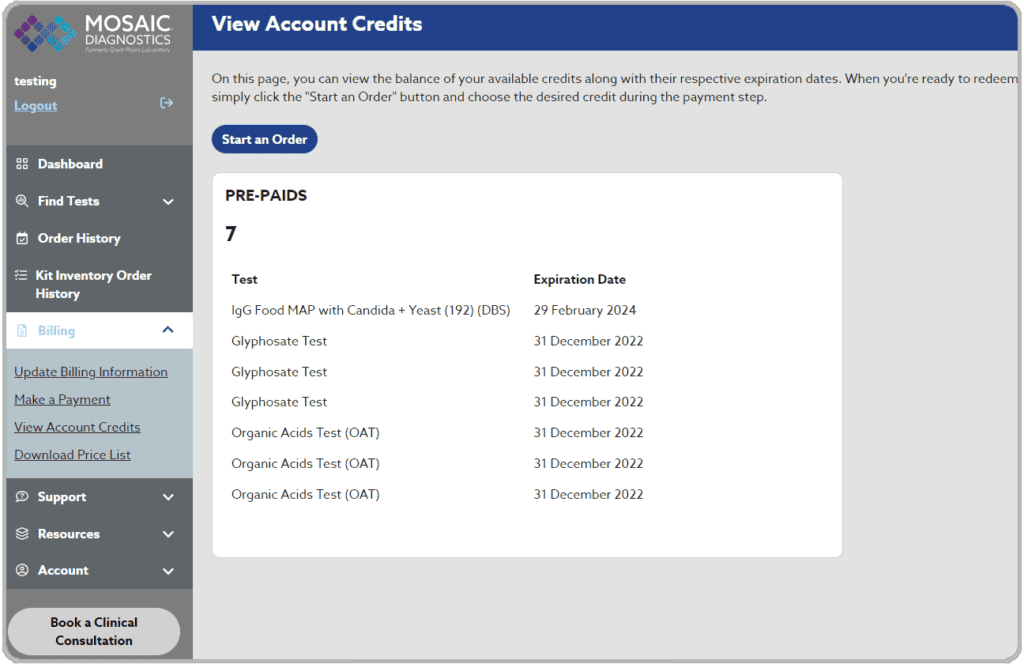 Instant Price List Downloads: Access pricing details effortlessly by downloading price lists from the portal.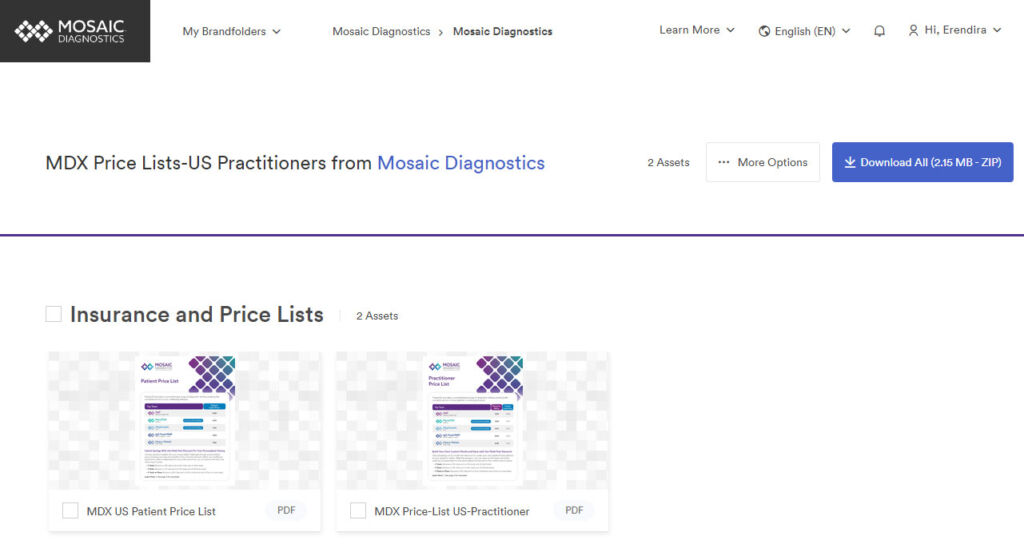 ---
MosaicDX Portal
Improved Practitioner Preferences
Effective: 8/31/2023
Set your preferences within the portal to streamline ordering process:
Preferred Payment Methods: Tailor your experience by saving your preferred payment methods.
Patient Shipping Notifications: Set your preferred shipping preferences and opt for shipping notifications to your patient.
Patient Price List Inclusion: Choose your preferred price list inclusion for seamless order placement.