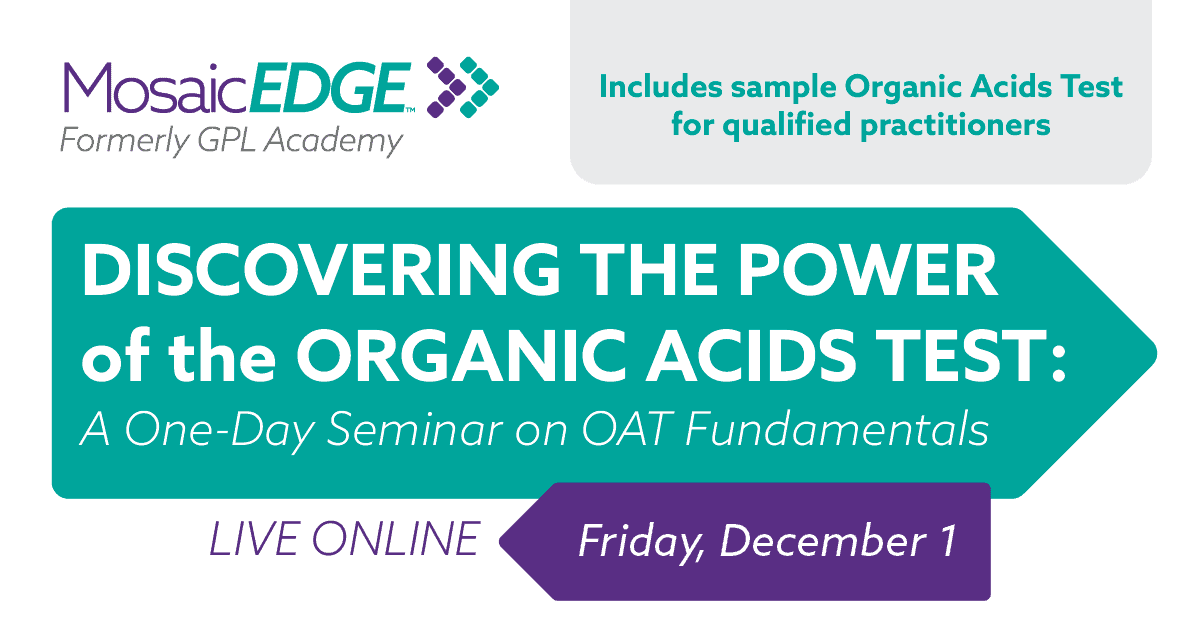 Join us live online December 1st for Discovering the Power of the Organic Acids Test: A One-Day Seminar on OAT Fundamentals reviews real patient cases and presents testing and treatment protocols that can be implemented immediately.
By signing up for MosaicDX's one-day seminars, you'll gain a comprehensive understanding of the fundamentals of the Organic Acids Test, covering topics like OAT interpretation, clinical application, and applying disease conditions and OAT patterns. Our seminars are designed to provide you with the knowledge and skills you need to enhance your practice and provide better care to your patients.
5 CME credits have been granted from Westbrook University. These credits can be added for $45.
Register today and receive a free Organic Acids Test.*
*This test is determined by the workshop and cannot be substituted or exchanged.
Post-workshop, the free OAT will be credited to your MosaicDX portal account within 3 business days as a pre-paid credit. This credit remains valid for 6 months.
To receive your free OAT, you must create an account. New users in existing clinics must be added by the clinic's portal administrator. Refer to the step-by-step video for assistance. Please note that only qualified practitioners are eligible for the free OAT. Shipping charges apply to international accounts.
MosaicEDGE workshops no longer include additional pre-pays or add-ons. For any inquiries, please contact allsales@mosaicdx.com.
Schedule
Schedule subject to change
Announcements – 7 am PST / 8 am MST / 9 am CST / 10 am EST
7:05 am PST / 8:05 am MST / 9:05 am CST / 10:05 am EST
Organic Acids Test (OAT) Introduction and Overview of Its Sections and Common Markers
Kurt Woeller, DO
Break – 8:45 am PST / 9:45 am MST / 10:45 am CST / 11:45 am EST
9 am PST / 10 am MST / 11 am CST / 12 noon EST
The OAT, Fungal Markers, and Chronic Candidiasis
Kurt Woeller, DO
10 am PST / 11 am MST / 12 noon CST / 1 pm EST
The OAT, Clostridia Bacterial Toxins, and Dopamine Metabolism Interference
Kurt Woeller, DO
Break – 11 am PST / 12 noon MST / 1 pm CST / 2 pm EST
11:30 am PST / 12:30 pm MST / 1:30 pm CST / 2:30 pm EST
Clinical Consideration of Elevated Oxalic Acid, Its Causes, and Intervention Strategies
Kurt Woeller, DO
12:15 pm PST / 1:15 pm MST / 2:15 pm CST / 3:15 pm EST
Quinolinic Acid and Its Link to Normal Cellular Energy Metabolism and Neurotoxicity
Kurt Woeller, DO
Break – 1 pm PST / 2 pm MST / 3 pm CST / 4 pm EST
1:15 pm PST / 2:15 pm MST / 4:15 pm EST
Case Studies, Case Examples, and Intervention Options
Kurt Woeller, DO
End of Workshop – 2:30 pm PST / 3:30 pm MST / 4:30 pm CST / 5:30 pm EST
Speaker Bio
Kurt Woeller, DO
FOUNDER OF INTEGRATIVE MEDICINE ACADEMY
Kurt N. Woeller, DO has been an integrative medicine physician and biomedical Autism specialist for over 20+ years. He is the author of several health books including Autism – The Road To Recovery, Methyl-B12 Therapy For Autism, Methyl-B12 for Alzheimer's Disease and Dementia, and 5 Things You MUST Do Right Now To Help With Your Rheumatoid Arthritis. He is an international speaker, educator, and practicing clinician offering specialized interventions for individuals with complex medical conditions. His health consulting practice for Autism alone is multinational with families from various countries. Dr. Woeller serves as a clinical and lab consult for Functional Medicine Clinical Rounds, as well as provides educational seminars for Great Plains Laboratory. He is co-founder of Integrative Medicine Academy (www.IntegrativeMedicineAcademy.com), which is an online training academy for health practitioners learning integrative medicine.